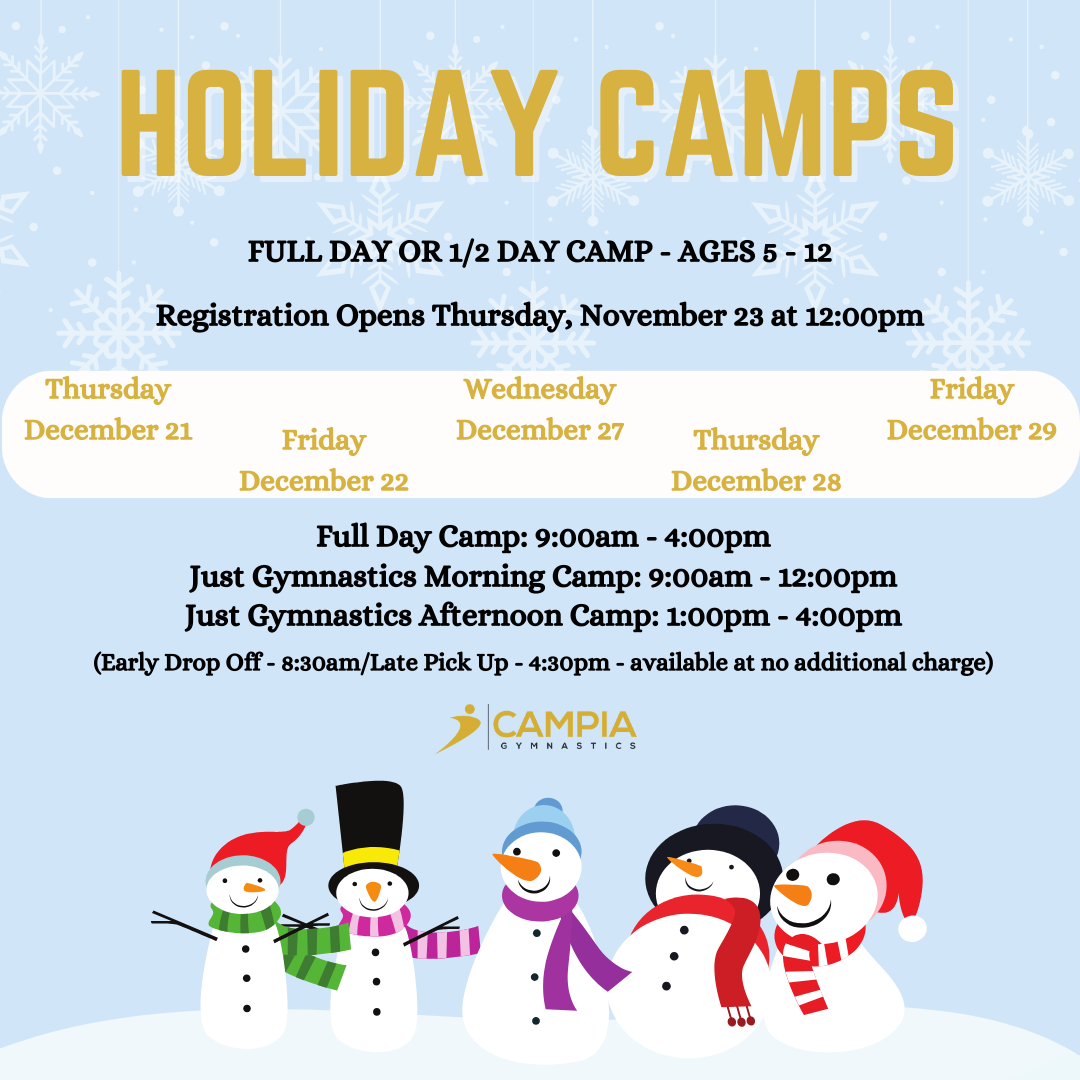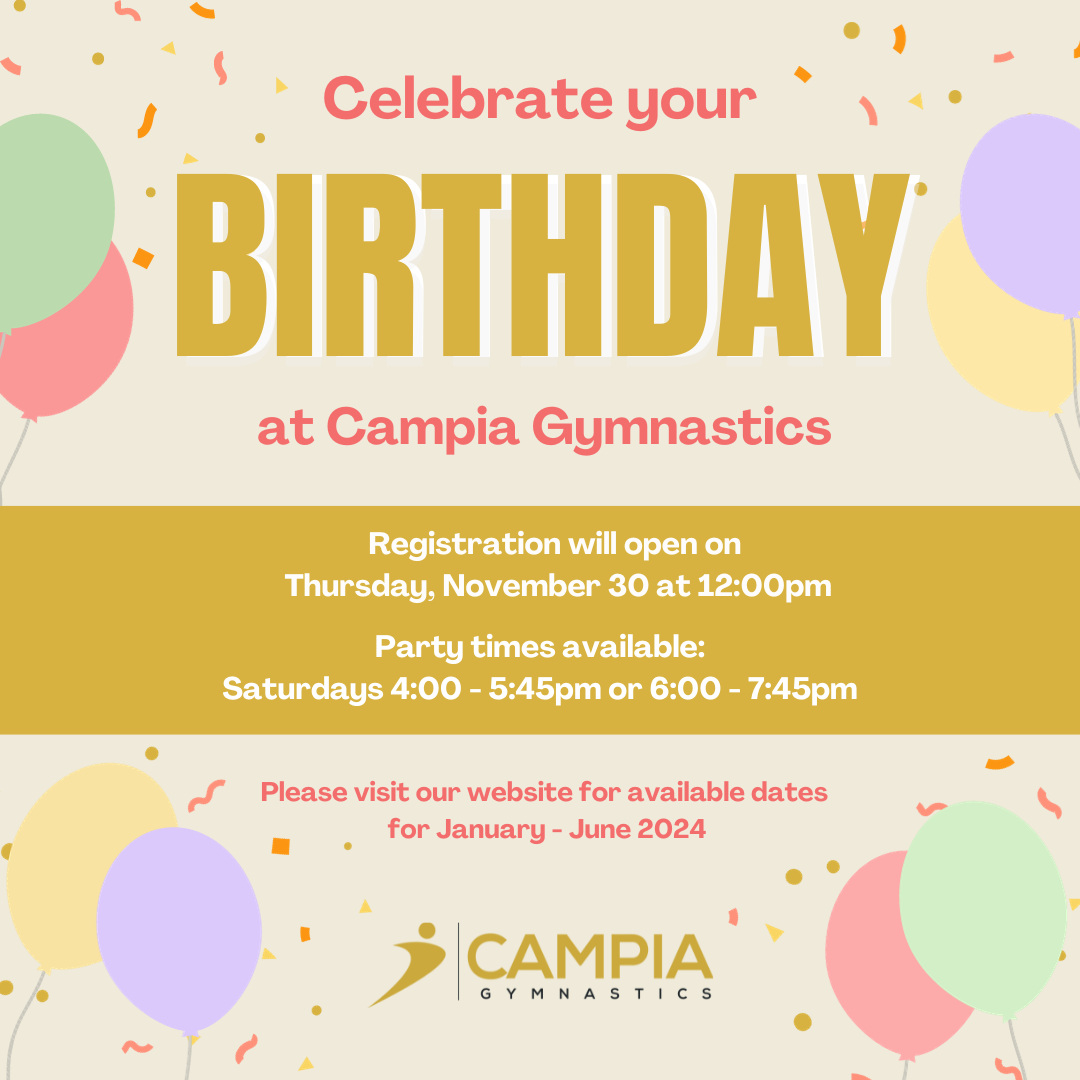 ---
Campia Gymnastics Board of Directors & Notice of Annual General Meeting
Are you passionate about gymnastics and committed to making a positive impact on the lives of young athletes in our community? If so, we invite you to consider joining the board of Campia Gymnastics Club as we continue to promote the sport and provide valuable opportunities for the youth.
Click to find out more - Board Recruitment.pdf
Notice of Campia Gymnastics Annual General Meeting 2023 - AGM 2023 Notice FINAL.pdf
Board of Directors Nomination Form 2023 - Campia nomination form 2023 FINAL.pdf
---
Welcome to Campia's Winter 2024 Session!
This session will run Saturday, January 6 - Wednesday, June 19, 2024.
Winter 2024 Recreational Schedule
Winter 2024 Recreational Class Fees*
*Class Fee Instalment Payment Plan Option (This option can be selected at check out). The first instalment - payment of 50% of the class fee, the equipment fee, annual Campia Membership Fee and Gymnastics NL Membership Fee is due at the time of registration (if not already purchased). This will secure your spot in the class. The final 50% class fee balance is due January 4, 2024. Campia will process the final balance using the same method of payment provided for the initial instalment payment.
Priority Registration - Wednesday, November 15 at 12:00pm (Members registered in the Fall 2023 Programming)
Member Registration – Thursday, November 16 at 12:00pm (Members registered in Summer 2023, Fall 2023 Session)
New Member Registration – Friday, November 17 at 12:00pm (Open to the general public)
Please note: athletes must meet the minimum age requirement of the class prior to the session start date
Super Babies (Age 6 Months-1 year) Superhero and Sidekicks (Age 1-3) Mini Hero (Age 3-4) Mighty Hero (Age 5)
Hero Academy I (Age 6-12) Hero Academy II (Age 6-12) Hero Academy III (Age 6-12)
Hero Academy IV (age 9-16) Hero Academy Boys (age 6-12) Home School Hero (age 5-14)
Badge Levels for Hero Academy Classes:
Hero Academy I - Burgundy, Red and Tan Hero Academy II - Bronze and Purple Hero Academy III - Blue, Turquoise and Silver Hero Academy IV - Orange, Yellow, Green and Gold
Teen Titans (Age 13-17) Jump Academy (Age 7-16)
Additional Annual Fees (non-refundable):
Gymnastics NL Membership Fee ($46.60/athlete) is valid July 1, 2023 - June 30, 2024
Campia's Membership Fee ($30/family) is valid September 1, 2023 - August 31, 2024
Winter Equipment Fee ($20/athlete) is valid January 6 - June 19, 2024
---
Campia's Recreational Program Policy Document
We have revised our Recreational Program Policy Document (Updated August 19, 2020). We encourage you to read through this updated document.
To view this document, please click the link below: Recreational Program Policy Document (July 29, 2022).pdf
---
Campia's COVID 19 Safety Plan 2022
We encourage you to read through our updated COVID-19 Safety Plan (Updated May 24, 2022). We have been working diligently to ensure that we are following all Public Health guidelines and providing the safest possible environment for our staff, members and families. Campia COVID-19 Safety Plan (May 24, 2022).pdf