Celebrate your Birthday
at Campia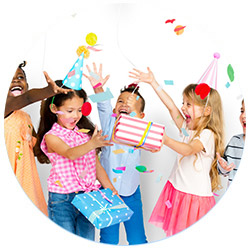 Enjoy Campia's Gymnastics Birthday Experience
Give your child a birthday party that they'll never forget! Come explore our state-of-the-art facility and experience the fun of gymnastics under the guidance and supervision of Campia's nationally certified coaches.
When you choose Campia for your child's next birthday, you're choosing an inclusive and encouraging environment where kids of all levels can enjoy exciting new challenges and make memories with friends.
Our exciting gymnastics birthday party takes children on a fun adventure. Campia's gymnastics coaches will lead the children through an exciting gymnastics adventure filled with games, special activities, gymnastics circuits and much more!
Under the guidance of Campia's positive and supportive coaches, your child will learn to tumble, roll and even jump into the foam pit! Our birthday party programming is paced appropriately for each child, making our gymnastics birthdays a great experience for kids of all ages and abilities!
The Party
The party room is accessible for set-up during the hour the children are in the gym. You are responsible for the food, beverages and decorations including plates, cups, napkins, cutlery, etc. We will take care of the clean up so you don't have to! Please note: All birthday parties are nut free.
Your birthday child will be presented with a souvenir Campia Gymnastics t-shirt.
Please note: You are responsible for providing the food, beverages and decorations for your party. No tape or thumb tacks are permitted when putting up decorations.
Pricing & Party Schedule
Parties are $275. This includes 16 children (please remember to include the birthday child and all participating siblings in this count). Additional children are $15 each, a max of 20 children for a party. Any additional children will be billed to your account once the party list is provided to Campia. Parties are open to children age 5+.
Waivers - All party attendees must have a signed waiver in order to be permitted entrance into the gym. Waivers must also be signed for any parents assisting children.
Any questions please call 709-368-JUMP (5867)or email info@campiagymnastics.com